Matcha green tea no churn ice cream is one of my favourite homemade ice cream flavours. It takes only 3 ingredients and you can have a delicious refreshing treat in no time.
We are making matcha no-churn ice cream
I SCREAM, YOU SCREAM, WE ALL SCREAM FOR ICE CREAM!! I AM CALLING ALL MATCHA GREEN TEA LOVERS! WE ARE MAKING MATCHA ICE CREAM!
Have you ever though of making ice cream at home, but you always let it go, because you don't have an ice cream machine? If yes, then you must read closely now, because I will show you how to make homemade ice cream form only 3 ingredients and no ice cream machine is needed!
"This post may contain affiliate links. Please see disclosure page for more information."
More no-churn ice cream flavours available
I would like to mention, that this matcha no-churn ice cream is a part of a wonderful collaboration, initiated by my good friend and food blogger Nick from BLOGTASTIC FOOD Nick had challenged me and other few food bloggers to create their favourite no-churn ice cream recipes. So stick around, because here you will get more than one recipe for no-churn ice cream.
What flavours I can use
This ice cream method doesn't require any expensive equipment. You simply need sweetened condensed milk, whipping cream and some favourite flavors, you will add to your ice cream. I have chosen matcha powder, because this is one of my favourite ice creams and this green colours just screams of summer.
Shot of espresso coffee
Shredded coconut
Whole or cut of fruits ( strawberries, banana, blueberries)
Cookie dough & chocolate chips
Milk, dark & white melted chocolate
Cookie & cream crushed cookies
Salted caramel sauce
There is many options and varieties of this no churn ice cream, you can choose your favorite flavor and add it to this simple base of no churn ice cream recipe. You just use your imagination and add it in this ice cream 🙂 I would love to know, what flavor would you prepare or will prepare, let me know below in the comments.
No-churn ice cream vegan version
Another great news is that this no churn ice cream recipe, can be made also as a vegan version. Absolutely, I haven't forgotten about my vegan friends and you too can enjoy this no churn ice cream. You will simply exchange the regular sweet condensed milk for coconut condensed milk and instead of whipped cream, you will use the fat from coconut milk.
How to prepare vegan no churn ice cream or other vegan ice creams
Useful tips how to prepare no-churn ice cream
Whipped cream needs to be mega cold! Keep your whipped cream in the refrigerator until you are really ready to use it. The whipped cream will be fluffier and will whip easily when extra cold. You can also make an extra step, by refrigerating the bowl and whisk attachment for 30 minutes, before whipping the whip cream.
Matcha powder is not easy to mix with cold liquids. So I suggest sifting matcha powder first in a bit of condensed milk and then add it to the whipped ice cream. If you sift the matcha directly into the cold whipped cream, the matcha powder will create lumps inside the cream, and you won't be able to blend it in.
At the end, I have created these little dark matcha powder intense swirls. It is optional in this recipe, but it looks so mesmerizing right? So I strongly suggest making these to give a wow effect. Especially if you like the intense flavor of matcha.
How to make the intense swirls? Simply reserve 2 tsp of condensed milk & 1-2 tsp of matcha powder and at the last step (once the whipped cream is in the loaf pan container, you drizzle over the top the matcha condensed milk mixture. Then take a spoon and make these mesmerizing swirls.
What kind of match green tea powder to use
This is a great question to ask. When it comes to making ice cream, baking or making smoothie, you don't need to use the highest grade of matcha powder. You can buy the cooking grade matcha powder. The highest grades of matcha powders or ceremonial matcha are very expensive and are used especially for drinking matcha tea, where you are using only the powder and the water to have the best experience of matcha tea.
These ceremonial mixes are the highest grade of matcha powder and the difference is in taste and colour. Ceremonial matcha powders are often less bitter and have very pronounces green colour. I have used this matcha powder, to make this ice cream recipe.
Are you ready to make your own no-churn ice cream? Let's do it!
I would say now you are ready to start this simple recipe for no churn Matcha ice cream, don't wait any longer, because ice cream needs to be frozen for good 6 hours to have a perfect consistency to scoop it onto your favourite bowl or waffle cone.
MATCHA GREEN TEA NO CHURN ICE CREAM
This is the simplest matcha ice cream recipe for making your homemade ice cream without any special equipments. It is called no-churn ice cream and you will need only 3 ingredients to make this refreshing matcha ice cream at home.
Ingredients
2

cups

of mega cold heavy whipping cream 35 %

1

can

(14 oz) sweetened condensed milk

4

tsp

Matcha Green Tea powder (sifted)

1-2

tsp

Matcha Green Tea powder (optional: sifted for the swirls)
Instructions
Before you start preparing the ice cream, place the loaf pan into the freezer to chill.

Pour the heavy whipping cream into the large bowl of a stand mixer with whisk attachment and whip the heavy cream until firm peaks.

In a separate large bowl, empty 1 can of sweet condensed milk and mix together it together with 4 tsp of Matcha Green Tea powder. (Optional for the Match green swirls: take 2 tsp of sweet condensed milk apart in a small cup and mix it with another 2 tsp of Matcha green tea powder, set aside).

Fold 1/3 of condensed milk with Matcha in the whipped cream using a spatula. Fold it in gently until homogeneous. Now take the whipped cream and fold it back in the rest of the condensed milk mixture in two parts.

Remove the loaf pan from the freezer and transfer the whipped cream into the loaf pan. Tap on the counter to release any trapped air bubbles.

If you are using Matcha green tea swirls, use previously reserved Matcha mixture and drizzle it over the whipped cream. Use end of the spoon to make the swirls.

Cover with plastic food wrap and secure with elastic. Place into the freezer for 6 hours or overnight. Scoop and serve!
PIN THIS RECIPE FOR LATER!
More no-churn ice cream ideas you will love
Nick offers Baileys salted caramel swirl no-churn icecream It is super creamy and gives a hint of warmth with Baileys liqueur. The salted caramel is perfectly drizzled through, so you can enjoy sweet and salty caramel inside this ice cream.
Marie has rich and chocolatey No-churn chocolate brownie ice cream with pieces of brownies in it. This ice cream is real chocolate treat.
Jen has created this Churro smores no-churn ice cream recipe which has amazing texture of crunchy churros and melted marshmallows.
Another one of my favourites no-churn peanut butter cup ice cream created by Christine. It is a flavorful ice cream with small peanut butter cups.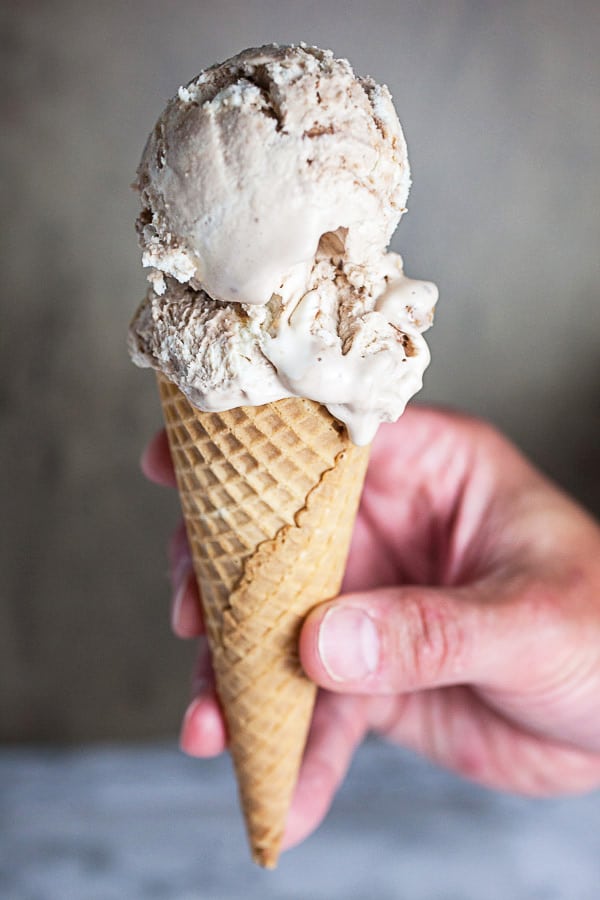 If you like fruit in ice creams, then this cheesecake creaminess created by Sarah Blackberry cheesecake no-churn ice cream would be something to try.
Another fruit no-churn ice cream created by Leanne is Cherry chocolate chip nice cream with swirls of dark chocolate and cherries reminds me of black forest cake. It is a must try ice cream.
This refreshing ice cream with a hint of ginger and turmeric is Loreto and Nicoletta's Turmeric ginger honey no-churn ice cream.